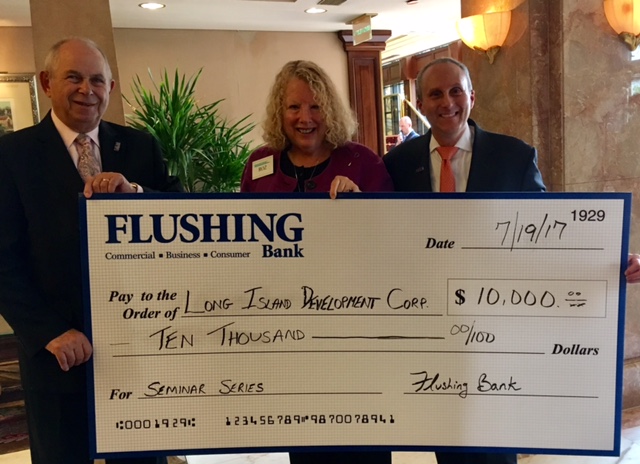 FLUSHING BANK SUPPORTS WESTBURY'S LIDC
Flushing Bank has been a proud supporter of LIDC for many years. As a community bank, Flushing recognizes the important role that small businesses play in fueling the economic engine of our local economy. Flushing Bank has agreed to sponsor an upcoming small business seminar series in the Fall. Long Island Development Corporation (LIDC) is part of a 501C3 not-for-profit economic development family providing a variety of low cost loan programs and free technical assistance to help businesses succeed on Long Island. www.lidc.org
Shown in photo: Frank Pelliccione, VP Business Development Flushing Bank, Roz Goldmacher, President/CEO LIDC and Steven Glass, Director Retail Business Development Flushing Bank.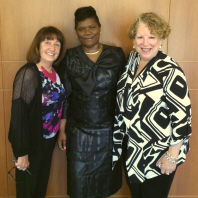 LIDC CEO Presents Entrepreneurial Scholarship Award
Roz Goldmacher, right, President, Long island Development Corporation presented the Roy Cacciatore Scholarship to Cherry Kerr ( center), owner of Rashadema Boutique in Baldwin. The scholarship helped her attend the Entrepreneurial Assistance Program at Hofstra University.
Program Director, Judith Tyne pictured on left. Roslyn is Chair/Sponsor of the scholarship, named in honor of the first and founding Commissioner of the Economic Development departments at Hempstead Town and Nassau County. Cherry's store specializes in formal bridal wear and church attire for women.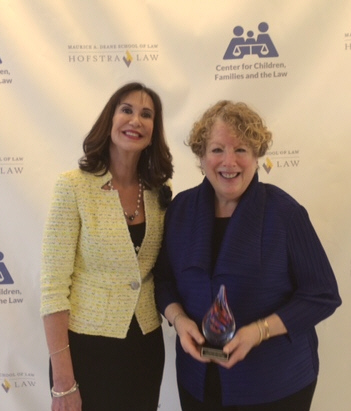 Roz Top 50 Hofstra Women in Law
Roslyn D. Goldmacher was honored on April 5, 2016 at Hofstra University's 1st Annual Long Island Outstanding Women in Law Awards held at the Hofstra Northwell School of Medicine. Co-sponsored by the Hofstra University School of Law's Center for Children, Families, and the Law and Long Island Business News. This is first time Hofstra Law and LIBN have honored women in law. Honorees were chosen from a field of 800 nominees. Shown in photo (L-R): The Honorable A. Gail Prudenti and Roz Goldmacher, President/CEO Long Island Development Corporation.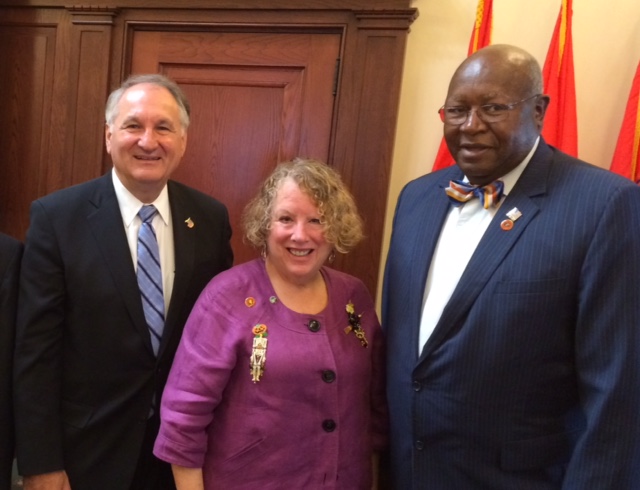 LIDC CEO Appointed to Comptroller's MWBE Advisory Committee
Roslyn Goldmacher, has been appointed to Nassau County Comptroller Maragos'new Minority & Women Owned Business Advisory Committee. The group's mission is to assist The County to increase participation by MWBE's in County contracts. Roslyn is President/CEO ofThe Long Island Development Corporation, an economic development organization devoted to assisting LI small businesses with low cost loans and free technical assistance. Roslyn has many years experience in procurement matters, Having previously run LI's Procurement Technical Assistance Center. For information about Nassau County Contracting opportunities for MWBE's – see: www.nassaucountyny.gov under Comptroller or Office of Minority Affairs. For information about low cost small business loans see www.lidc.org.
L-R: George Maragos, Nassau County Comptroller
Roslyn Goldmacher, LIDC President/CEO and
James Garner, Nassau County Chief Deputy Comptroller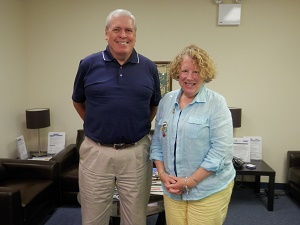 SCORE COMES TO WESTBURY ON FRIDAYS!
SCORE (Service Corps of Retired Executives) has been mentoring new & existing businesses for over 40 years and has a network of over 13,000 volunteers who donate their time. SCORE LI will counsel small business owners & entrepreneurs at our LIDC/LISBAC office in Westbury on Fridays.
Hours will be 10 AM -2PM - by appointment only by calling: 888-433-3632 or schedule on website www.longisland.score.org. Above: Jack Rein, SCORE Counselor & Roz Goldmacher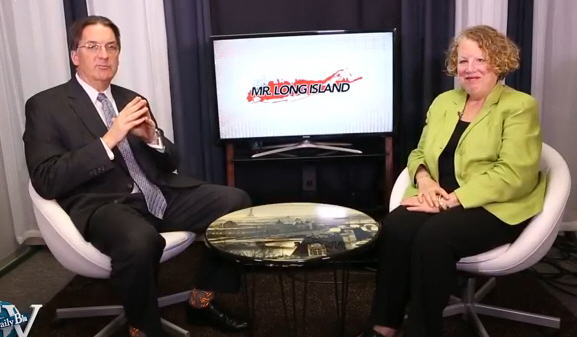 Mr Long Island Roz Goldmacher LIDC Interview
LIDC's CEO, Roz Goldmacher was interviewed by 'Mr Long Island', Michael Watt during his taped segment of 'Ask Mr. Long Island'. Michael endeavors to ensure his native Long Island's vitality by advocating for the small businesses that comprise the region's economic backbone and the Young Professionals who represent its future.

Click here to watch the entire interview: https://www.youtube.com/watch?v=sx4Xdj-s8xE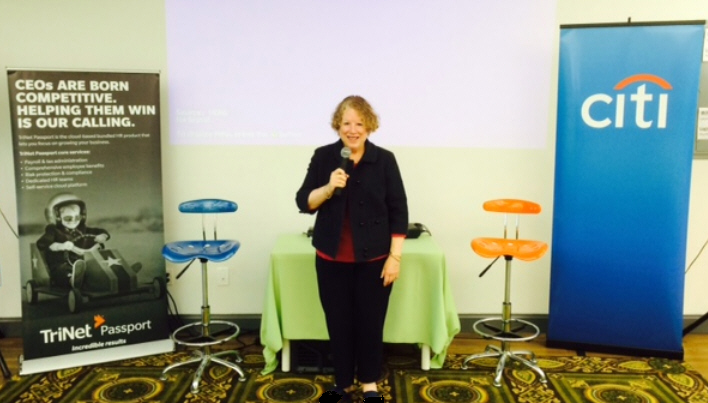 LIDC CEO Addresses Huntington Professionals on Acquiring Alternative Funding for Small Business Start Ups
Roz Goldmacher, LIDC's CEO was invited to present at Huntington LaunchPad's Small Business Start Up Symposium. Topics addressed were how to acquire alternative government funding for entrepreneurs and criteria necessary to qualify. Roz also shared information regarding the availability of various government programs offering assistance and additional value added resources.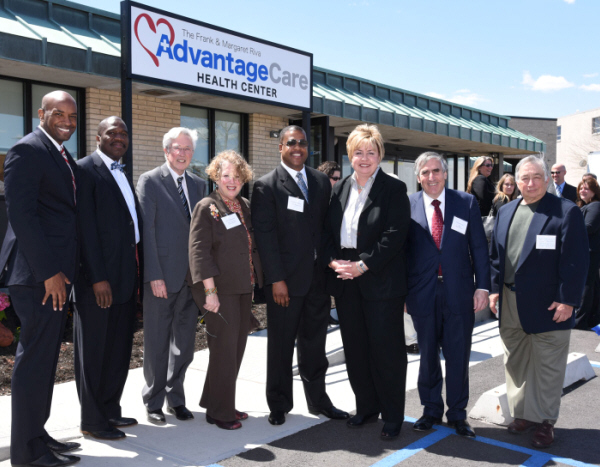 LIDC President Attends Opening of AHRC Advantage Care Center in Freeport
LIDC President Roz Goldmacher, a member of the AHRC Foundation Board, attended the grand opening of AHRC Advantage Care Health Center, Freeport. The Center provides healthcare services (primary care, dental, women's health, psychiatry andpodiatry) to children and adults with intellectual and development disabilities. With the addition of the Freeport location, the Health Center now serves clients from state of the art facilities in Brookville and Freeport. Pictured with Roz is Hempstead Supervisor Kate Murray.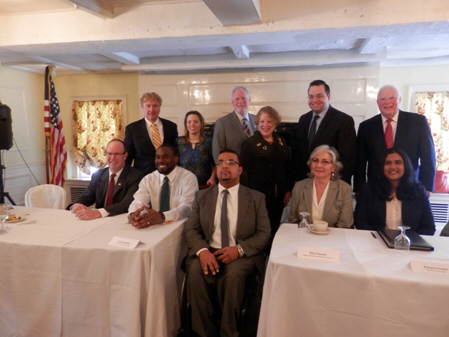 LIDC/LISBAC & NASSAU COUNTY HOSTS ALTERNATIVE SOURCES OF GOOD EMPLOYEES
LIDC/LISBAC partnered with Nassau County Executive, Ed Mangano's office to present a free seminar entitled: "Alternative Sources of Good Employees". The focus of the seminar was the advantages of hiring those with disabilities. The successful event drew a crowd of representatives from various agencies on Long Island who deal with aiding and supporting the 'differently abled'.
Shown above: Seated: Michael Dolan, Abilities Inc.; Justin Dantzler, AHRC; Lesley St. Louis Rosicki/Rosicki Assoc., PC; Ella Craanen, Acess VR; Sunita Manjrekar, Nassau Cty Social Services; Standing: Tom Rosicki, Esq., Rosicki/Rosicki; Jennifer Albergo, Rosicki/Rosicki; Richard Snyder, Astoria Bank; Roz Goldmacher, LIDC; Nick Terzulli, Nassau Cty IDA; and Joseph Kearny, Nassau Cty IDA.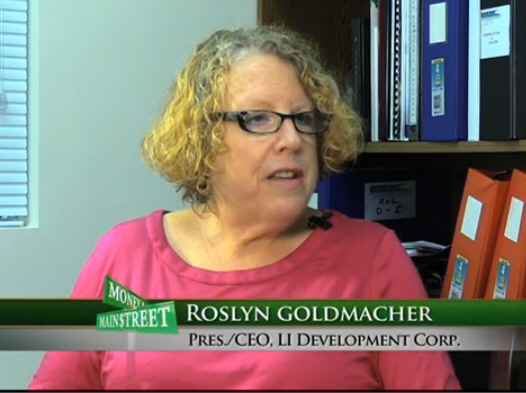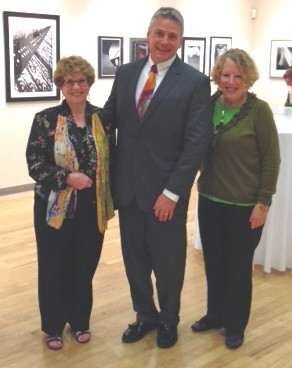 LIDC CEO SUPPORTS LICF & ART LEAGUE OF LI
LIDC President/CEO Roz Goldmacher (Right) with Art League of LI Executive Director, Charlee Miller (Left) and David Okorn, Executive Director, LI Community Foundation at LICF's Annual Donor Reception held at ALLI's wonderful Huntington headquarters. Roz has unique connections to both organizations - she is on the board of LICF and has a fund there in honor of her late mother, Selma. Roz was on the board of ALLI when it build its headquarters. For information on LICF see www.licf.org. For information on ALLI see www.artleagueli.net.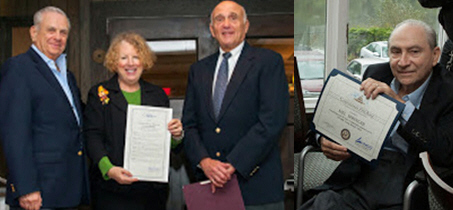 SCORE CELEBRATES 50 YEARS
The Service Corps of Retired Executives (SCORE) celebrated its 50th anniversary at a luncheon at the Jolly Fisherman in Roslyn, LI. Certificates, proclamations and congratulatory letters were received from state senators, members of congress and local legislators. Shown left: Mark Rothenberg, Area Director NY SCORE, Roz Goldmacher, LIDC & Barry Klein, SCORE Volunteer. In addition, the group congratulated a twenty-year SCORE volunteer Mel Springer (photo right) who will be retiring and relocating with his family to Florida. Mel you're the best.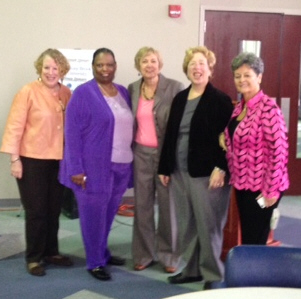 LISBAC CHAIR KEYNOTE SPEAKER
Long Island Small Business Assistance Corp (LISBAC) Chair, Phyllis Hill Slater (Principal, Hill-Slater Group) keynoted the 3rd Annual Brookhaven Town Women's Empowerment Conference.
Approximately 250 attendees and 50 vendors participated. LISBAC was a sponsor of this event.
Shown L-R: Roz Goldmacher, LIDC, Phyllis Hill Slater, Councilwoman Connie Kepert, Shelley Goldmacher, LIDC & Diana Weir Commissioner Housing & Human Services for Town of Brookhaven.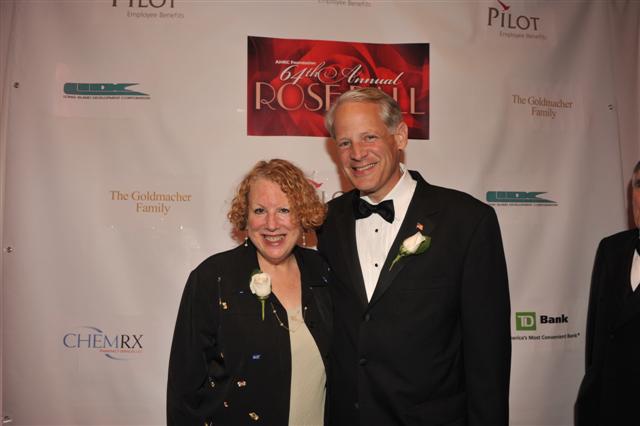 Roz Goldmacher Honored by Nassau AHRC Foundation
Roslyn D. Goldmacher, Esq. was honored by Nassau County AHRC Foundation at the 64th Annual Rose Ball held at the Crest Hollow Country Club on June 6th. Roz, President & CEO of Long Island Development Corporation, has been a longtime supporter of AHRC Nassau and currently serves as a member of the AHRC Foundation Board of Directors and as a trustee of its pooled trusts. Shown in photo with Congressman Steve Israel who was honored with the 2014 Humanitarian Award. AHRC Nassau was founded in the early 1950's to provide services to children and adults withdevelopmental disabilities outside of an institutional setting. AHRC was (and continues to be) a parentdriven organization, dedicated to providing a wide range of services to better the lives of people with special needs. AHRC's mission is to teach, support and advocate for people with disabilities to help them fulfill their goals, exercise independence and become contributing members of our society.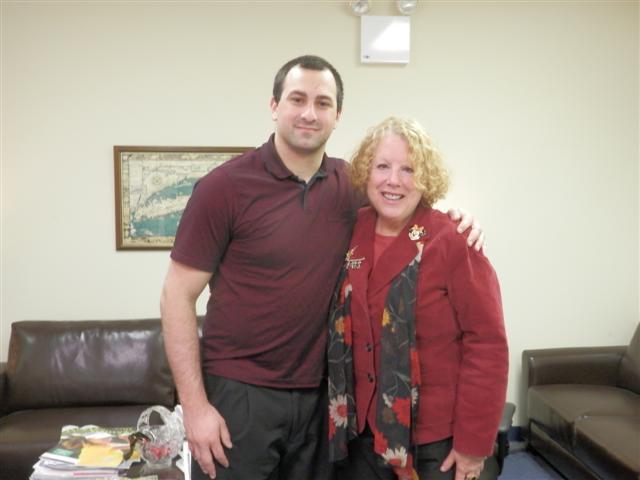 Serial entrepreneur expands again with technical assistance from LIDC/LISBAC
Serial entrepreneur Nicholas Panebianco started Victory Martial Arts 2011 with technical guidance from Roz Goldmacher at LIDC/LISBAC. Victory, located in Setauket, offers cardio kickboxing and self defense classes for women, kids and adult martial arts. It has also expanded to competition fights. In 2013, after designing the web site for his business, Nicholas kept getting requests to do the same for other businesses and opened a web design business where he designs and hosts websites, does google search engine optimization and social media management. Through this work, he has helped grow a bar/restaurant, landscaping business, and a martial arts studio, to name a few. Next on the agenda? Well- that the current topic of discussion with continue counseling from Roz and others at LIDC and LISBAC. Kudos to Nicholas Panebianco, serial entrepreneur , growing his businesses on Long Island. For information about Victory Martial Arts or web design contact Nicholas at 631 682 4615; Nicholas.panebianco88@gmail.com.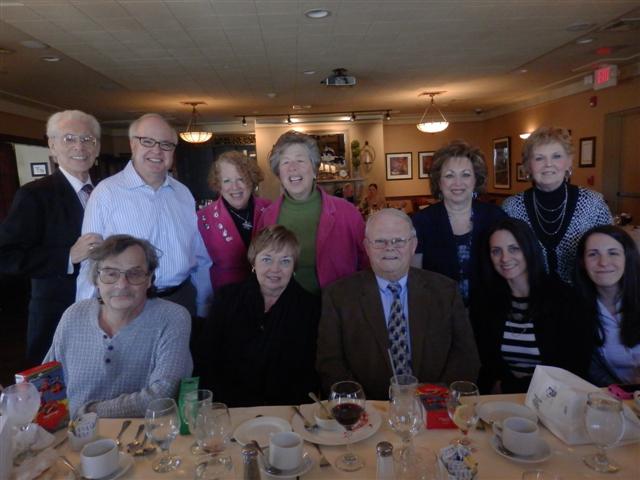 FOND FAREWELL TO THE NIEDERBERGERS
LIDC/LISBAC's VP Lending, Walter Niederberger and his lovely wife Pat (center) were celebrated at a retiremet luncheon held at Palmer''s American Grille. Walter and Pat are relocating to Myrtle Beach, SC. We all wish them a healthy and happy transition. Good Luck & Best Wishes.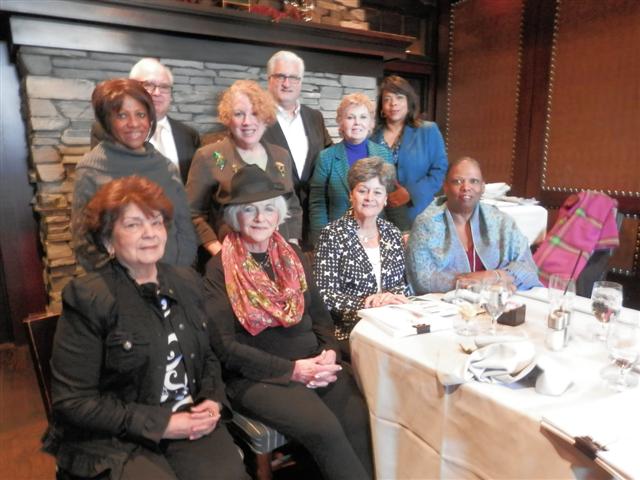 LISBAC HOLDS 2014 ANNUAL MEETING
Long Island Small Business Assistance Corp (LISBAC) Board of Directors met at Blackstone's for the 2014 Annual Meeting. Attending were (seated) Liz Medina, Kit Cafaro, Diana Weir, Phyllis Hill Slater. Board members standing: Jackie Cayne, Doug Asofsky, Roz Goldmacher, Mark Buttice & Gina Slater Parker. Also present, Doris Mellina, Program Coordinator.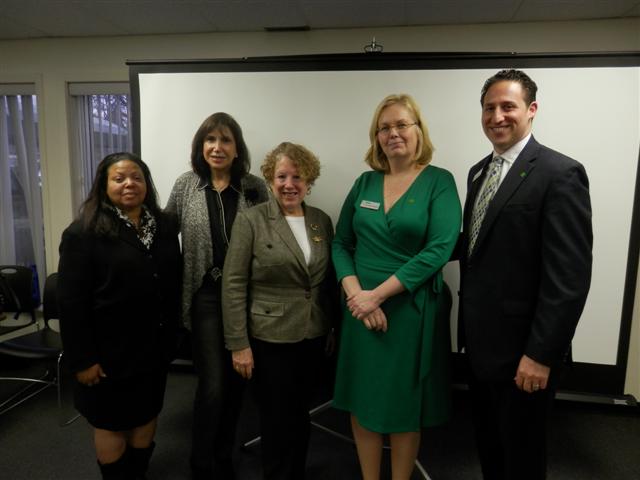 LIDC/LISBAC SPONSORS SMALL BUSINESS SEMINAR
The Gold Coast Library in Glen Head, Long Island was the location for the Free Access to Capital seminar for small business owners and entrepreneurs seeking information on various ways to fund their growing businesses. Shown L-R: Barbara Whiting, SBA, Gilda Gilbert, Bridge Capital, Roz Goldmacher, LIDC/LISBAC CEO, Ann Coughlin & Scott Horowita, TD Bank. Topics covered traditional bank products, SBA loans, micro loans and alternative financing. Attendees had the opportunity to introduce themselves, give an overview of their business and address questions to the panel.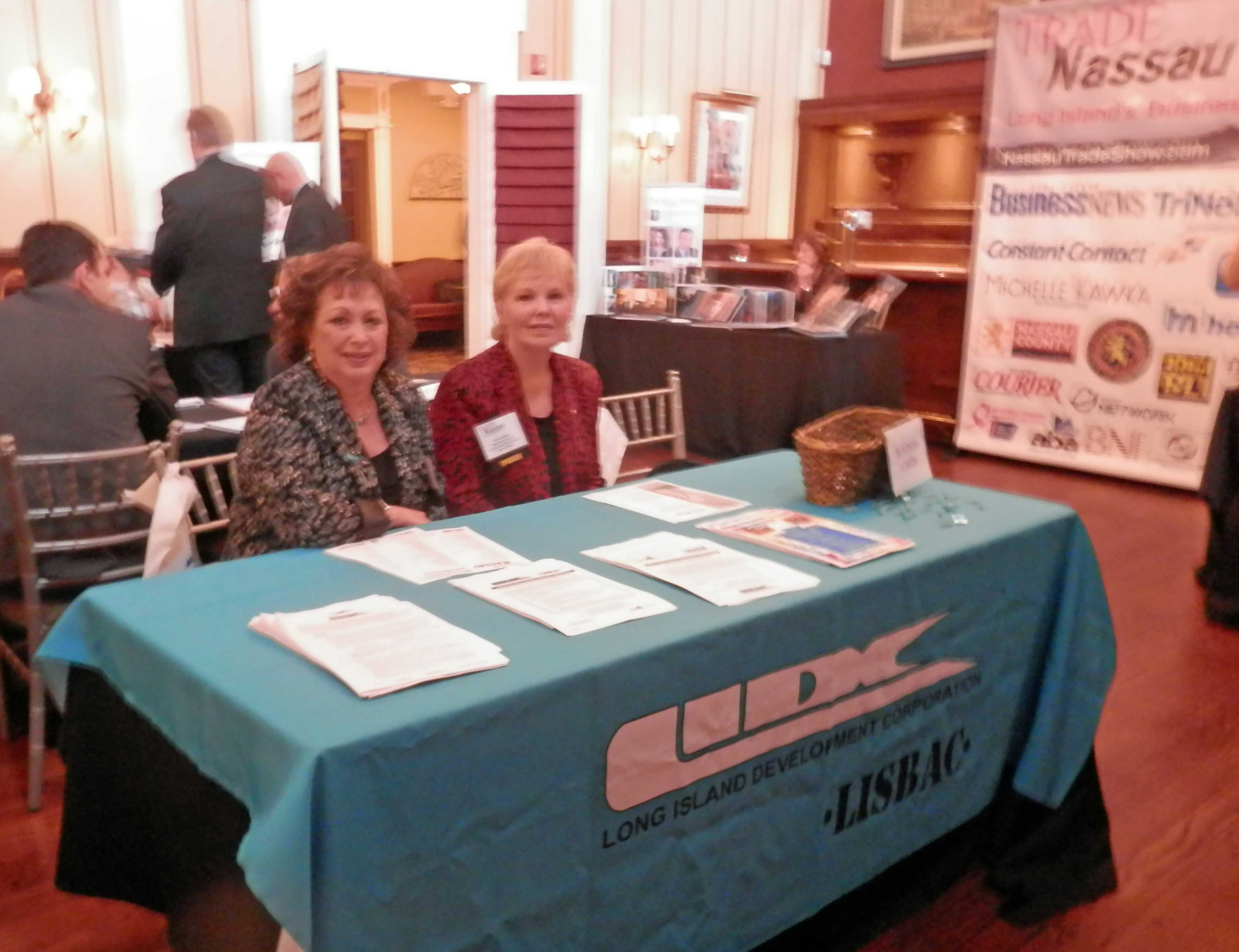 LIDC/LISBAC at Trade Nassau - Small Business Trade Show
Sponsors, LIDC/LISBAC joined forces with over 100 exhibitors and small business advocates at the 'Trade Nassau' Long Island's Business Trade Show held at Carlyle on the Green. Attendees were able to participate in business seminars and workshops during the day-long event. In addition, many stopped by the LIDC/LISBAC table to pick up printed material and ask questions about the various programs that benefit business owners and entrepreneurs. Shown in photo (L-R)
Marcia Gruber, Assistant Portfolio Manager and Doris Mellina, Marketing Director for LIDC.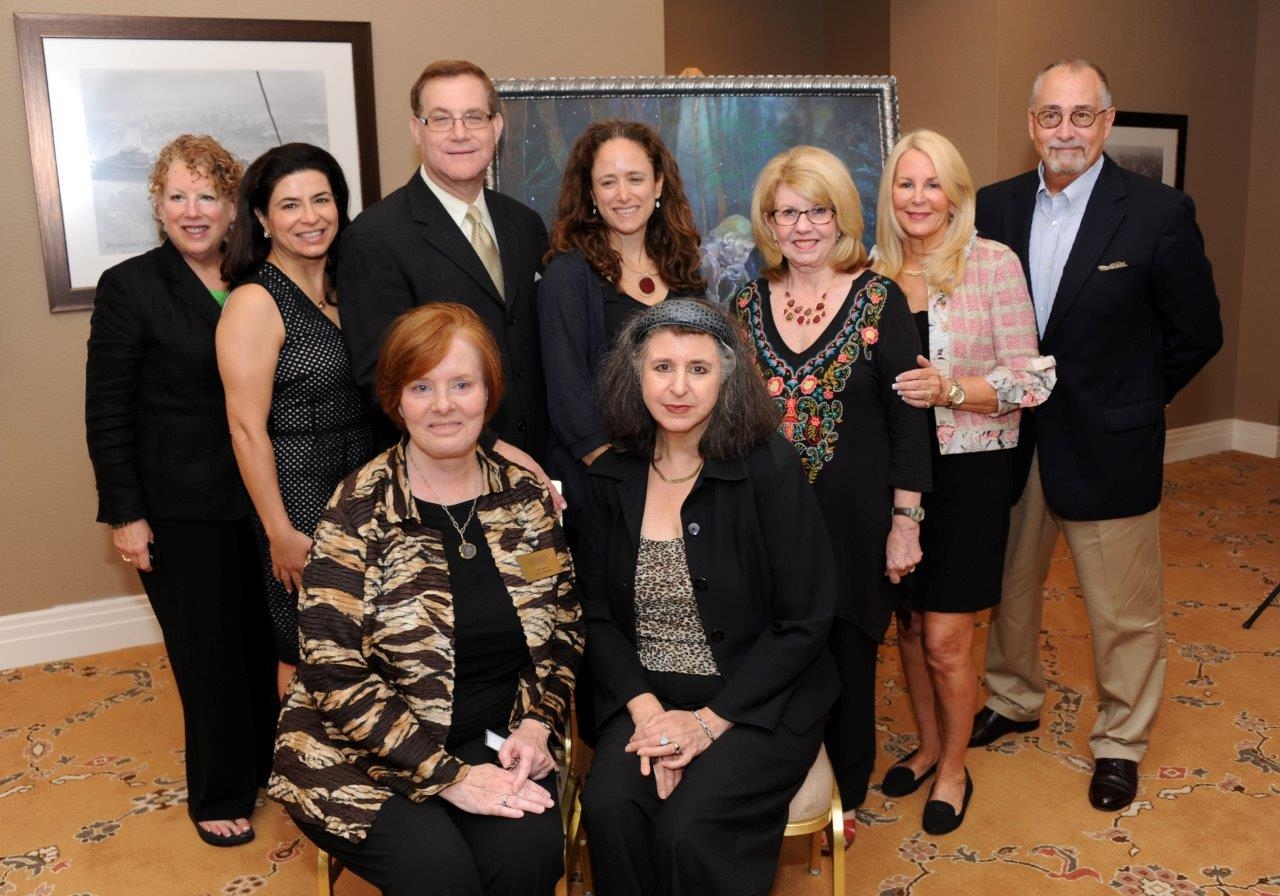 The Business of Art
Long Island Development Corp/LISBAC teamed with North Hempstead Business & Tourism Corp and The Amsterdam at Harborside to co-sponsor a free small business breakfast seminar entitled 'The Business of Art'. Purpose of the collaboration was to help business & community thrive and grow using art as a basis as a marketing tool; as a community revitalization tool; as an economic development tool; provide fun for the residents of The Amsterdam and neighboring communities; provide resources to arts related organizations in the community. Celebrated Long Island artist, Ruth Poinarski showed a collection of her work reminiscent of Dutch masters Rembrandt, Rousseau, etc.
Left to right , Front row: Mary Donovan, Director Marketing The Amsterdam at Harborside, sponsor, speaker Ruth Poniarski artist Back row: Roslyn D. Goldmacher, Pres/CEO LI Development Corp, sponsor, speaker Anna Kaplan, No Hempstead Town Councilwoman Roy Smitheimer, Assoc. Director No Hempstead Business Tourism Development Corp, sponsor,speaker Caroline Sorokoff, Assoc. Director Great Neck Arts Center, speaker Charlee Miller, Director Art League of LI, speaker Angela Susan Anton, CEO Anton Publications, Mistress of Ceremonies Dr. Michael Schantz, Director Heckscher Museum of Art, speaker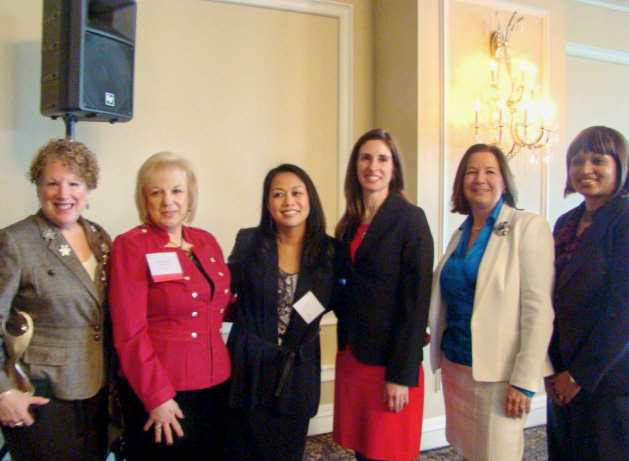 LIDC CEO WINS ATHENA LEADERSHIP AWARD
Roz Goldmacher, LIDC's CEO was the proud recipient of the prestigious 2013 Long Island ATHENA Leadership Award. Ceremonies took place at Oheka Castle in Huntington, NY. This award honors outstanding women leaders, who meet the criteria for creativity & initiative in their business or profession; improve the quality of life for others in their community; actively assist women in achieving their full leadership potential. Show here (L-R): Awardee, Roz Goldmacher. Award finalists: Adrienne Giannone, President/CEO Edge Electronics, Inc.; Humera Qazi, Director KPMG, LLC (Event Sponsor); Jennifer Ann Tuschong, Process Development Manager Estee Lauder Companies, Inc.; Barbara Cataletto, CEO of Business
Dynamics LLC; and Michelle Green, Manager Inventory Management for Henry Schein, Inc.
Video Link: https://vimeo.com/57701066
Password = ATHENALI2013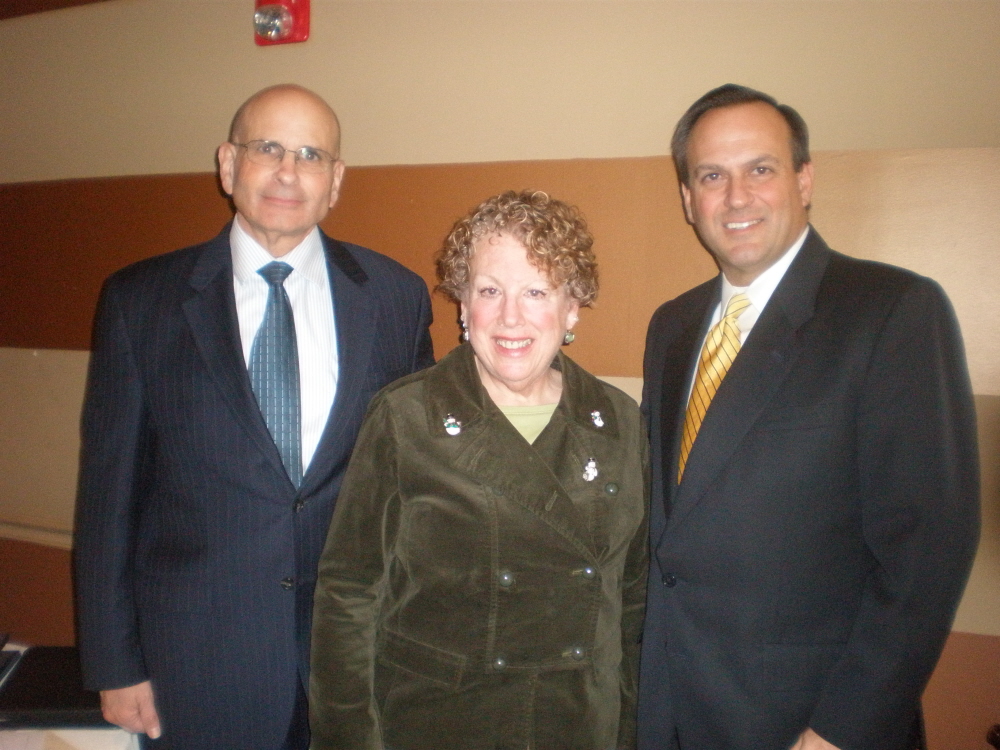 LIDC/LISBAC CO-SONSORS HUNTINGTON SEMINAR
LIDC/LISBAC collaborated with Louis C. Ciliberti Associates, Ltd. to present 'From Financial to Financing' - free small business seminar held at Mac's Steakhouse in Huntington, NY. Topics ranged from current investment trends, risk management, pre-tax funding designs, working capital financing, free technical assistance resources and 401K hot topics and trends. Attending accountants were able to receive 1 CE credit. Photo shows Roz Goldmacher flanked, L-R by
James M. Gross, Financial Advisor and Louis C. Ciliberti, Principal, Louis C. Ciliberti Associates, Ltd.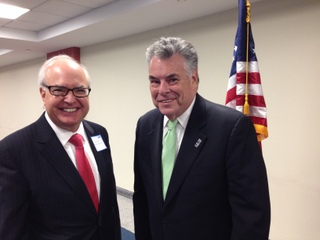 LIDC Chair Meets With Congressman Peter King
LIDC Chairman Doug Asofsky (left) had the opportunity to meet with LI Congressman Peter King (right) at a recent LIA breakfast. They discussed a variety of issues relating to small business, capital access and the economy. Congressman King agreed that a jump start to the economy would require less regulation for business as well as banks in order to free up more capital.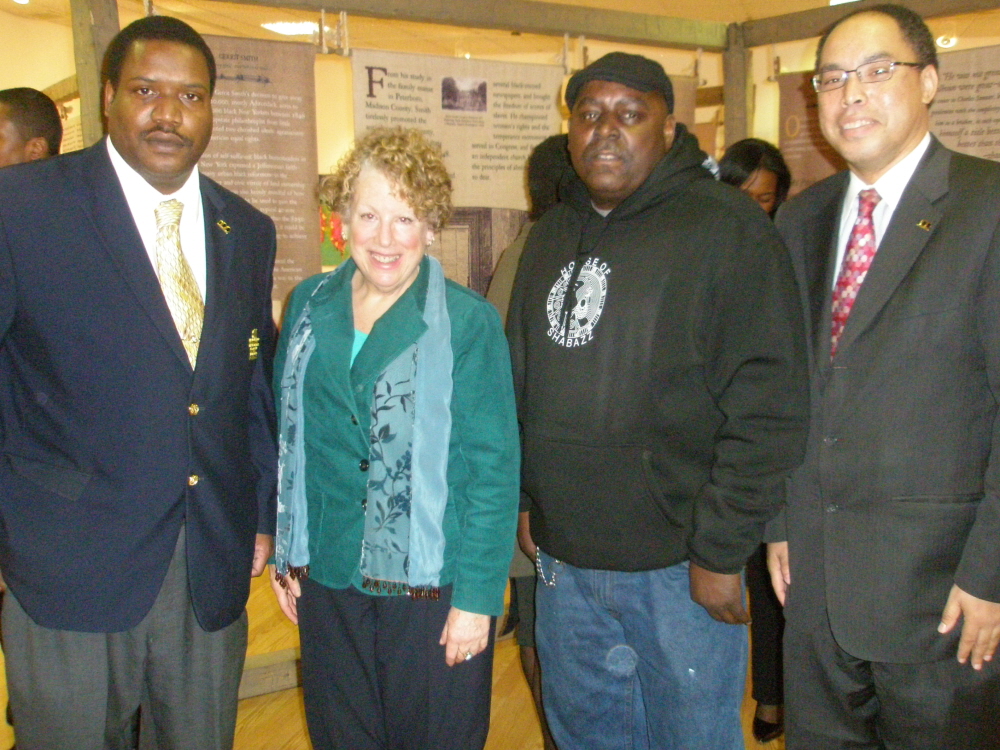 SMALL BUSINESS MINORITY FORUM
Roz Goldmacher, LIDC CEO, spoke at the Small Business Minority Forum hosted by 100 Black Men of Long Island, Inc. The economic empowerment workshop was held at the African Art Museum in Hempstead, NY. Pictured here L-R: Phil Andrews, President 100 Black Men of LI Inc.; Roz Goldmacher; Al Forde, President Hempstead Chamber of Commerce; Bryan A. Barnett, Financial Advisor & 100 Black Men of LI Inc. Board Member.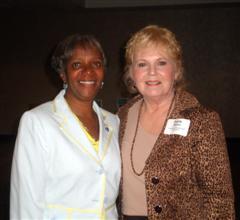 LIDC RECEIVES CITI GRANT
LIDC received a grant from Citibank Community Development in order to provide seminars for small businesses on Long Island on topics ranging from Financing for Business to Marketing Through the Internet. The seminar series is used to help small business owners and entrepreneurs, ranging from start up to existing, expand and improve their businesses. The grant was presented by Pat Edwards, Director Community Development Long Island. Accepting on behalf of LIDC, Doris Mellina, Marketing Director and Business Development Officer.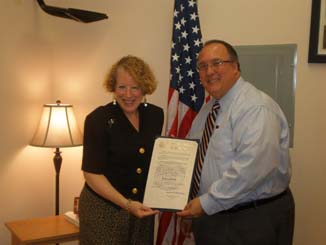 ROZ NAMED WOMAN OF DISTINCTION
NYS Assemblyman, Michael A. Montesano presents citation to LIDC President, Roz Goldmacher naming her a 'Woman of Distinction' in honor of her major impact on fostering economic development on Long Island. Roz has been a constant force in small business advocacy, particularly in the fast-growing segments of women and minority-owned businesses.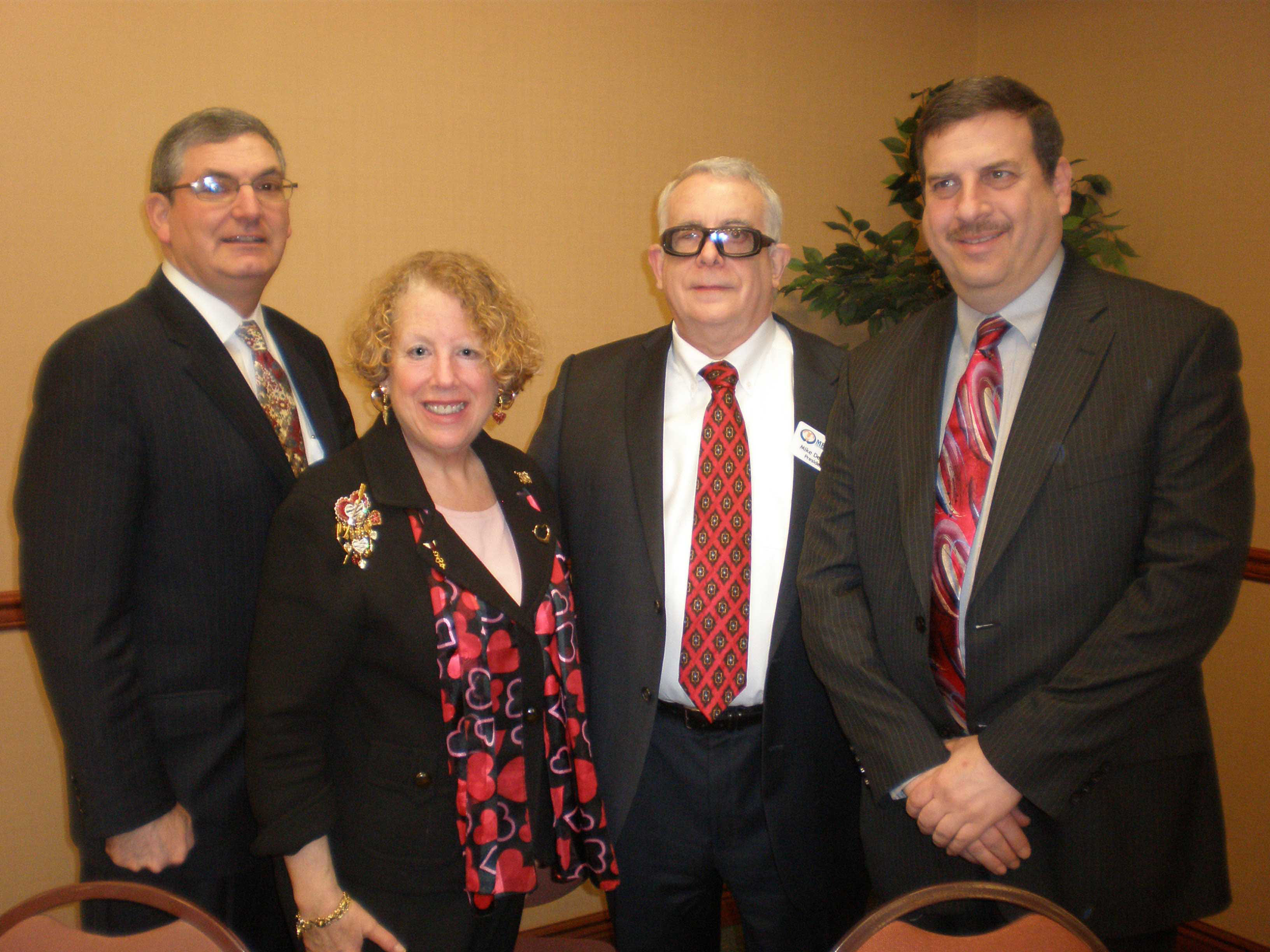 MELVILLE CHAMBER OF COMMERCE PARTNERS WITH LIDC/LISBAC
Melville Chamber of Commerce members and small business owners listen to a panel of experts discussing various resources currently available for financing. The event was hosted by T. Weiss Realty Corp and sponsored by LIDC/LISBAC. Photo (L-R): Neil Seiden, Asset Enhancement Solutions, LLC, Roz Goldmacher, President LIDC/LISBAC, Mike DeLouise, Melville Chamber and Mike Ogus, Community National Bank.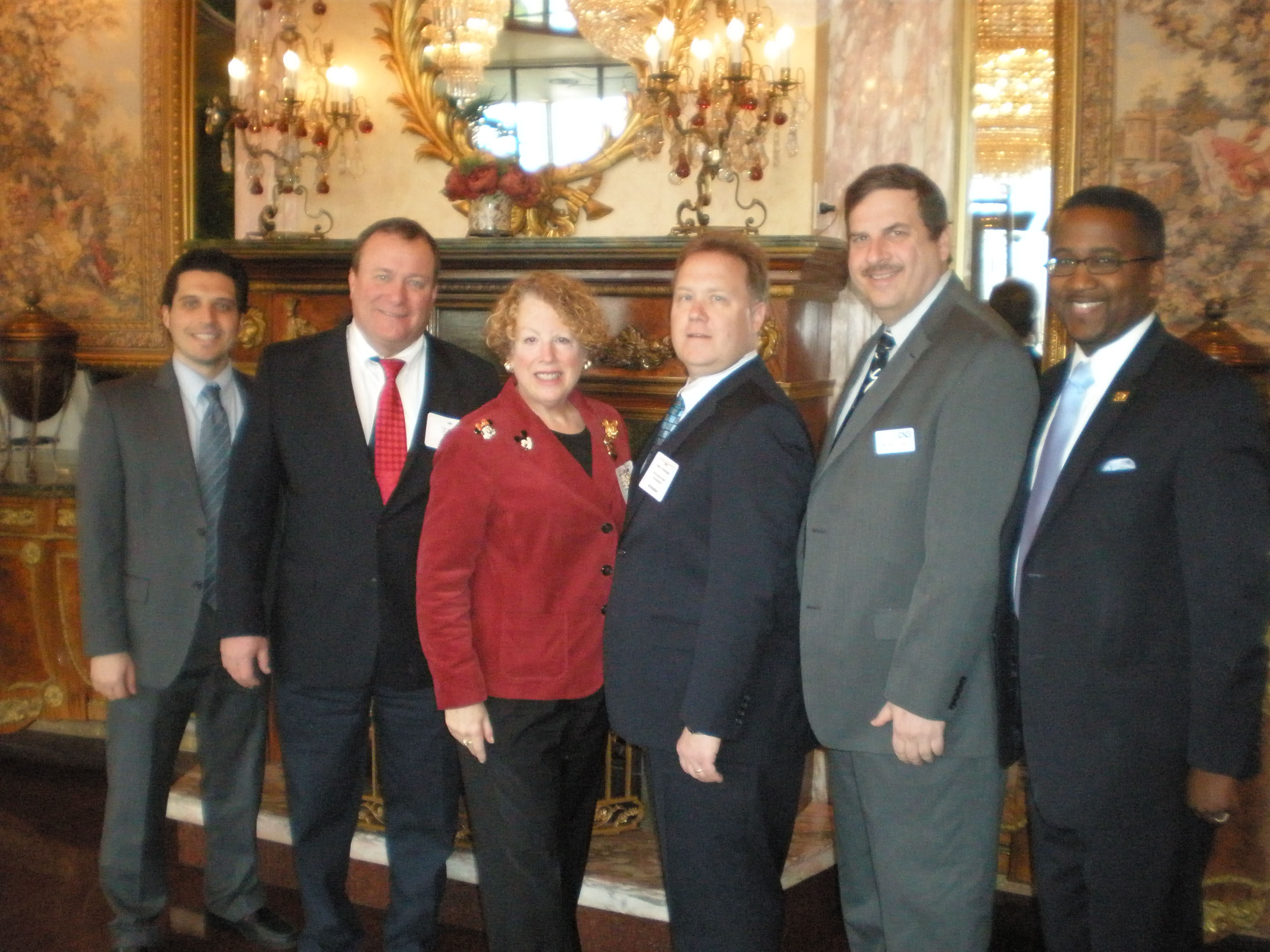 LIDC/LISBAC AT MULTICULTURAL EXPO
LIDC/LISBAC participated in the day-long Multicultural Business Expo held on March 15th at Leonards of Great Neck. Seminar topics covered resources available for small businesses and entrepreneurs. Panel L-R: John Bozek, CDC of LI; Tim Harris, Nat'l Grid/LIPA; Roz Goldmacher, CEO LIDC/LISBAC; Barry Greenspan, Empire State Development; Mike Ogus, Community National Bank and Walter Oden, Small Business Administration.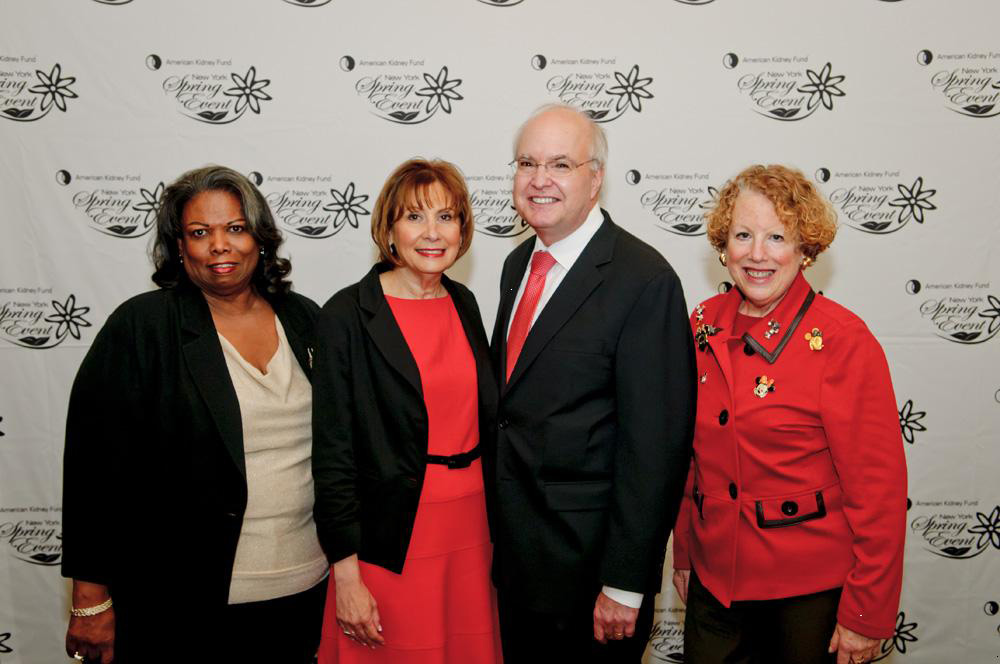 LIDC CHAIR HONORED
LIDC Chair Doug Asofsky and his wife Barbara were honored at a gala reception by the American Kidney Fund. Doug and Barbara participated in an historic 8 person kidney transplant at Columbia Presbyterian where four people donated kidneys, four people received kidneys, all at the same time. The event was highlighted in an episode of Greys Anatomy on tv. Doug donated his kidney so that his wife Barbara could receive one. They were honored for their humanitarian and community efforts over the years. Pictured L-R: Phyllis Hill Slater, Hill Slater Inc., Barbara & Doug Asofsky, Roz Goldmacher, LIDC.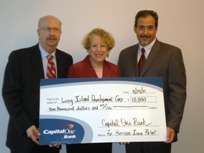 THANK YOU CAPITAL ONE BANK!
Roz Goldmacher, LIDC's CEO (center) proudly holds a check presented by Capital One Bank in recognition and support of LIDC/LISBAC's free small business seminar & technical assistance programs. Shown above representing Capital One Bank, Philip Ballin, Sr VP (L) and Andrew Corrado, Sr VP Private Banking/Market President, Nassau County (R).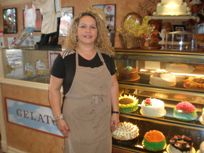 LISBAC Borrower Is "Dreamy"
Jeanie Annecco has been baking since she was 9 years old. In 2005, Jeanie started 'Jeanie's Dreamy Cookies' out of her home - selling to local delis. In 2009 Jeanie came to Long Island Small Business Assistant Corp (LISBAC) for a modest loan to update her equipment. Today her thriving shop, "Jeanie's Bakery" is a bustle of activity and the creations in her display cases are a sight to behold. Jeanie is the recipient of a number of awards for excellence and her contributions to the local community. LISBAC is proud to have been a supporter and a small part of Jeanie's Bakery's success.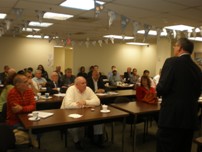 LIDC/LISBAC FREE Seminar With Capital One Bank
LIDC/LISBAC teamed up with Capital One Bank to offer small business owners of LI a chance to obtain valuable information on how to obtain various types of funding. The standing room only crowd heard a panel of experts speak on conventional bank loans, SBA small business loans, SBA & FEMA Disaster Relief loans, Targeted Industry loans, micro loans and alternative financing. Asset Enhancement Solutions, LLC President, Neil Seiden spoke on alternative financing and answered questions from the audience.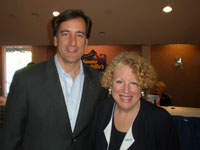 Senator's Small Business Expo
Senator Charles J. Fuschillo and Roz Goldmacher,President/CEO Long Island Development Corp. exchange ideas at Senator Fuschillo's Small Business & Networking Expo. Attendees gathered information on funding and value added resources, and also had opportunities to trade business cards with other entrepreneurs and professionals.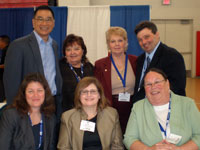 LIDC/LISBAC Present at HIA Trade Show
Long Island Development Corp/Long Island Small Business Assistance Corp. participated in the 23rd Annual HIA LI Business Trade Show & Conference. Some 5,000 LI business people attended to gather resources and to network. LIDC/LISBAC's booth was part of the economic development pavilion.

L-R Seated: Loretta Crawford, Empire State Development, Lisa Ann Broughton, Suffolk County Economic Development, Ann Heal, NYS Dept of Labor. L-R Standing: Robert Wong, National Grid, Patty Cook, Govt Contract Specialist, Doris Mellina, LIDC/LISBAC and John Mallano, US Small Business Administration.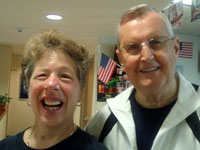 LIDC Staffer Arranges Donation to Local Church
LIDC's, Shelley Goldmacher recently arranged for the donation of folding chairs to The Bethpage Assembly of God Church. Shelley's personal trainer, Jack Bergersen at World Gym Wantagh, also serves as Deacon of the church. Shelley works for Shelley handles the mail, does computer entry, filing, scanning and other duties.

When LIDC recently sold its Bethpage building, it donated office equipment to a number of local organizations. Shelley, knowing Jack's connection to the church, asked if they might have a need for folding chairs. It was a perfect match for the chairs they already had. Congratulations Shelley for thinking out of the box and arranging a donation that had a positive impact on the community.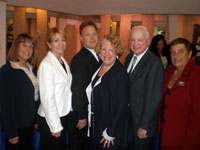 LIDC Convenes Micro Lenders
LIDC convened the first ever meeting of Long Island Small Business Micro Lenders. The purpose was to talk about how the organizations can leverage each other's resources for the benefit of entrepreneurs. Groups present included: ACCION US, LaFuerza CDC, CDCLI, LISBAC along with small business resource providers Hofstra & Suffolk Community College Entrepreneurs Centers, SBDC's, NY State Micro Loan Fund and SCORE.

Pictured: Judith Tyne, Hofstra, Giovana Ramirez, LaFuerza, Barry Greenspan, NYS, Roz Goldmacher, LISBAC, David Boone, LaFuerza, and Sue Raizer, CDCLI.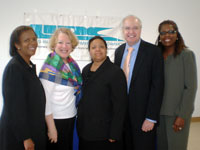 Successful New Cassel Seminars
A panel of experts team up to bring financial resourses to the New Cassel community. Small Business attendees learned about conventional bank loans, SBA loan programs, micro loans and NY State loan funds. The seminar also brought together representatives from various non profits, CDCLI, IRS, SCORE, National Grid, Nassau County Office Minority Affairs, Nassau County Business Development Unit,and North Hempstead Business & Tourism.

Pictured L-R: Pat Edwards, CITI's VP Community Development, Roz Goldmacher, President/CEO LIDC, Barbara Whiting, SBA Business Development Specialist, Doug Asofsky, CITI's Sr. VP SBA National Sales Director and Kennetha Pettus, Executive Director Unified New Cassel Community Revitalization Corp.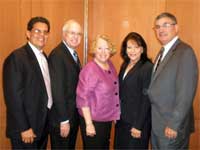 Roslyn Goldmacher Moderates a Panel on Capital Access
Roslyn Goldmacher (center) moderated a panel on capital access for small business for the Nassau Society of Financial Service Providers on 9/15. Roz's organization- LI Small Business Assistance Corp./LIDC GAPSCAP sponsored the event. Roz, President of LISBAC & LIDC , is President Elect of NSFSP, part of a national group of credentialed professionals in the insurance, legal, accounting and financial planning fields.

Pictured with Roz are from left to right: Ben Lira, Managing Director, American Portfolios Financial Services, Doug Asofsky, Senior Vice President, SBA Director for Citibank, NA. (Northeast), Roz, Julia Zinkowski, Sr. VP Area Business Banking Manager Citibank, NA, and Neil Seiden, Managing Director Asset Enhancement Solutions, LLC.
CITI Foundation Supports LIDC
CITI Foundation continues to support Long Island Development Corporation's highly effective small business and economic development efforts. LIDC will focus on instructional seminars/training for entrepreneurs to be able to expand and grow with helpful tools such as marketing, accounting, acquiring alternative financing opportunities and other ways to grow their businesses.

LIDC brings 30+ years of expertise and experience to the table for the benefit of entrepreneurs, nonprofits, government agencies, trade associations and others. We will continue to use our expertise and resources to help LI's economy.

Shown left to right: Douglas Asofsky, CITI Pat Edwards, CITI, accepting for LIDC Roz Goldmacher, President/CEO and Julia Zinkowski.
The Emerging Green Economy
Access & opportunity for diverse communities was the topic at the ACT 'Green Up' event co sponsored by LIDC & LISBAC. Among noted speakers were: Hon. Steve Israel - US Congress, Hon. Viviana Russell - Town of North Hempstead and our own Roz Goldmacher, President, LIDC/LISBAC. Event attendees consisted of small business owners, faith-based and nonprofit organizational executives, homeowners & building owners and local community leaders.